Fort Worth Family Law Attorney

Life is full of complications and frustrations, as well as moments of joy and happiness. Nothing engages these emotions more than families. These groups of people are there for us when we need a shoulder to lean on, to lift us when we fall, and to laugh with us while creating memories. Unfortunately, families can break down, fall apart, or become divided because of any number of circumstances. When they do, a Fort Worth family law attorney is an essential asset.
At The Law Firm of William A. Walsh, we understand how important families are and how overwhelming it can be when they experience significant difficulties. Our family law attorney has been helping individuals and families navigate the complicated legal divides confronting them for over 20 years. We use compassion, empathy, and understanding when helping our Fort Worth clients navigate difficult times.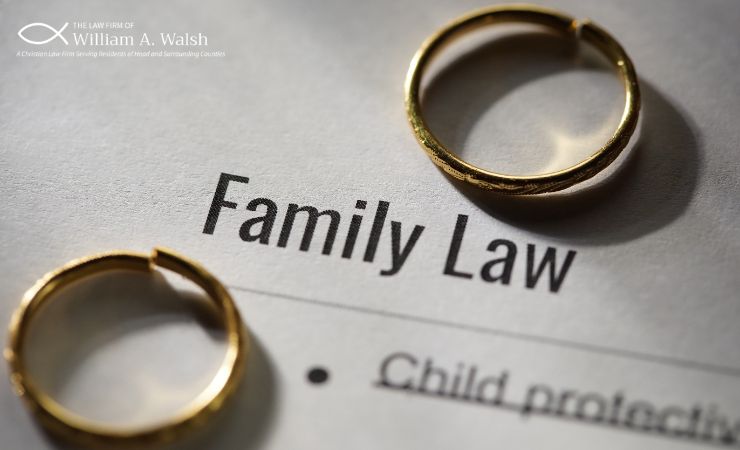 What Is Family Law?

Family law is a reference to the specific legal proceedings that focus on parenting, marriage, and other family matters. These cases have a large impact on those involved and can bring relief to individuals in some situations and can devastate others. Often handled with delicacy, attorneys who practice family law have skills in negotiation, mediation, and trial advocacy.
Types of cases that are litigated under family law include:
Divorce. Even if your spouse is willing to cooperate during the divorce process, agreements can turn into arguments very quickly. There are many legal matters that need to be settled in the divorce process, including asset division, child custody, child support, and spousal support. Divorce settlement agreements require strong and tough negotiations to ensure you receive what you are entitled to.
Child custody and visitation. These can be among the most contentious cases in family law. Whenever a case involves children, it can get lost on the two arguing parties that the interests of the children need to be met. These cases can turn personal and ugly. Family law practices seek to reach an amicable outcome regarding with whom the child should live and what visitation rights the other parent will receive.
Paternity cases are often filled with emotions. The results of a paternity test can impact child custody, visitation, and child support. In addition, paternity tests can help to provide children with valuable benefits from both the employment of their father and their estate upon their death. Whether unmarried, divorced, or separated, clients who seek paternity tests benefit from legal support.
Child support. From an initial divorce to a modification, child support can be an ongoing issue between two parents. Anytime there is a change in employment or wages, one parent may challenge an existing support agreement. Additionally, a parent may need to take legal steps to recover unpaid child support. For existing agreements, modifications cannot be made unless under the direction of the court.
Alimony and spousal support. A common misconception is that spousal support or alimony is automatically awarded when one spouse makes more than the other. This is not the case, and it comes down to the needs of each spouse, the potential to earn, the agreements made about finances while married, and more. An attorney practiced in family law is able to examine your circumstances and provide insight into the potential for support.
Property division. When a couple separates or divorces, each spouse has a right to an equitable distribution of assets, including physical property, investments, retirement accounts, and more. All of these pieces are considered property and are divided based on a number of factors. This process can be complicated and contentious, with each spouse claiming the rights to specific assets.
Domestic violence. While this also falls into the realm of criminal court, domestic violence impacts families in many different ways. Because of the severity of such behaviors, cases of domestic violence often involve children, which will require child custody and support settlements. Additionally, domestic violence charges could be falsified in an attempt to sway the proceedings of other family law situations.
Adopting a child is a lengthy process that involves home visits and more. For many, when thinking of adoption, they think of adopting children who are in foster care. However, family law cases that involve adoption could be the result of a family member, such as a grandparent, seeking to gain custody of a child whose parents may be deemed unfit or may have passed away.
Divorce settlement adjustments. When a divorce is finalized, both parties are given terms they are to follow as part of the final settlement. This includes everything from child support to spousal support. Life changes can require that these settlements be modified in order to accommodate changes in living situations, work, or salaries. Without legal representation, these modifications could leave you taken advantage of.
Prenuptial and postnuptial agreements. These important contracts allow two people to come to terms with one another prior to their marriage or just after their marriage. In these contracts, they will agree to terms on finances, assets, children, and more. The purpose of these terms is to align both parties with a predetermined outcome should the marriage end in separation or divorce.
Rights of grandparents. Family legal matters are tough for everyone involved. However, an often forgotten area of family law that is not acknowledged is the rights of grandparents. While grandparents may not have direct rights to custody of a child, they can make arguments to a court if they feel the parents are unfit for custody or are denying visitation if it is court-ordered.
Benefits of Hiring Family Lawyers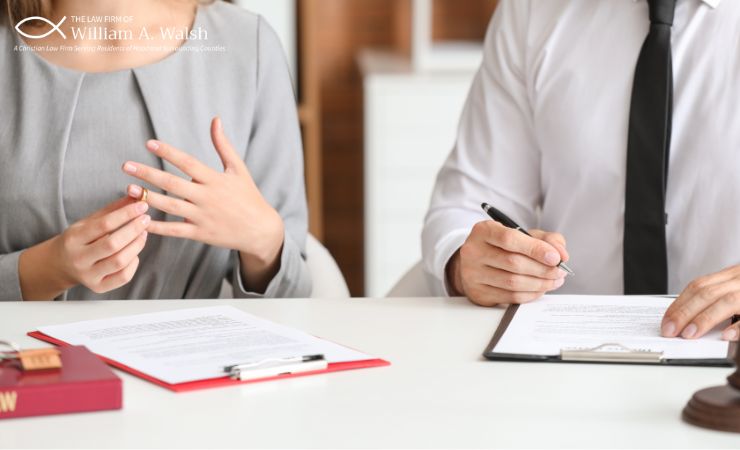 Because family law encompasses such a variety of situations, seeking legal representation should be a priority for anyone who faces one of them. While it may seem more beneficial to attempt to argue the case on your own for financial purposes, the ramifications of improperly arguing your case, missing a deadline, or any number of other mistakes could end up costing you more.
Working with a family law attorney can not only help you prepare and file court documents, but they also represent your interests on your behalf in mediation, arbitration, or litigation. They are focused on helping you achieve the desired outcome for your case. Because they are not involved in the situation, they can easily separate themselves from the emotional impacts of the situation, which can often lead to contentious arguments that prolong the process.
Each situation is unique to the client, but lawyers can act as a support system when clients are confronted with difficulties. You can form an honest and open relationship with your attorney that helps you feel supported through the process with open communication and someone who is on your side.
Some of the situations that can benefit from the help of a family law attorney include:
Leaving a harmful relationship. Whether the result of domestic violence, financial problems, infidelity, substance abuse, or any other number of relationship complications, deciding to separate or divorce can be difficult. A family law attorney helps you to take the first steps in a new direction. While taking the first step is difficult, with the support of your attorney, you will no longer feel you are pulled down by your toxic relationship.
Fighting for support adjustments. When the divorce or separation is finalized, the financial support commitments for spousal and child support will be put in writing. If you obtain information that your ex was recently promoted or had a significant raise in income, it could be time for an attorney to help you file for modifications of the agreement so that you can cease payments or receive more support.
Custody disputes and visitation. Parents have a right to see their children, and life changes can impact that. If your ex has custody, for example, and is seeking to move out of state, the court must approve the modification before they are allowed to, as it will impact your ability to visit with your child. An attorney can help protect your rights in the process so you don't lose the right to see your child.
Ignoring a court order. Many family law cases involve court orders that determine what the family dynamic looks like moving forward. If your ex, for example, fails to pay child support, they are violating a court order. These violations allow you to take your ex to court and to hold them accountable to the order. When you have to encourage your ex to follow the order, an attorney can help move that process forward.
Wills and trusts. Estate planning is a part of family law, particularly when a person passes unexpectedly. Determining the distribution of assets can be complicated if there is no will. With the help of your family law attorney, you can avoid disagreements and ensure that all parties involved can work through the difficult grieving process together instead of arguing over that person's assets.
No matter what you need a family law attorney for, it is always better to have one working on your behalf than not.
How Do I Find the Right Family Law Attorney in Fort Worth, TX?

Finding the names of possible attorneys is as easy as searching on Google, but knowing if they are right for you takes a little more than the search results. Hiring an attorney who you trust and who has your interests in mind can have a significant impact on the outcome of your case. Knowing what to look for can empower you to choose the right attorney. Here are some suggestions for hiring the right family law attorney:
Hire an attorney who is easy to work with. An attorney is your partner and support system throughout your legal proceedings. You want to know they are someone you can trust. You should be able to tell your attorney anything without fear of judgment. You will be communicating with them often, and you want to know they have your interests in mind. Identify if they have handled similar cases to yours and if they can easily explain legal matters.
Interview potential attorneys. You are hiring them for their services, but there are other options. Interviewing potential attorneys can help determine if they are the right fit for you and your needs. Obtain a perspective of their personality, their communication style, and their promptness. You want to trust they will represent you well in all aspects of your case. Also, identify if they are willing to work within the budget you have in mind.
Ask for recommendations. While online reviews can be helpful, they come from people you do not know and may not trust. Start by speaking with friends and family members who may have worked with an attorney in the past and who may be able to recommend one for you. Ultimately, the decision of who to work with is yours, but starting with those familiar to people you trust can help to narrow the field.
Inquire about experience. Establish their experience with cases that are similar to yours. You'll want an attorney who works in family law as a large part of their practice. Lawyers who have little experience in family law will not be as prepared to take on the intricacies of your case.
There are many factors that go into hiring the right attorney, and knowing what to look for can help you make the right decision. While these are just some of the qualities to look for, they can help give you the peace of mind you need during the process.
What Is the Burden of Proof in Family Law?

Unlike a criminal court, a family court does ask for evidence to prove guilt or innocence; rather, it seeks to prove that a particular outcome is the most appropriate for the circumstances. However, the burden of proof may look similar to a criminal court in that evidence must be offered to prove a point in one of three ways:
Beyond a reasonable doubt. Evidence that provides a conclusion that would be considered acceptable by anyone of sound mind and body within reason.
Preponderance of the evidence. This evidence is presented in a way that leads to the conclusion that it is more likely true than not, but the confirmation of it is not necessarily concrete.
Clear and convincing evidence. The evidence creates a belief that it is true, but it isn't quite taken as an absolute fact.
In family law cases specifically, these types of evidence are used to help determine child custody, the grounds for divorce, and more. In a divorce, for example, the burden of proof becomes important and the center of many contentious arguments. Some common examples include:
Separate property. When it comes to shared assets, both parties often feel they are entitled to them. Unfortunately, only one person will receive an individual asset. Arguments often arise when one spouse claims it is community property and the other claims it is separate property. Presenting clear and convincing evidence can help either party prove their point and claim to the asset.
When a spouse involved in a divorce is claiming that the other spouse engaged in an extramarital affair, they must show clear and convincing evidence that this took place. Simple suspicions or innuendos cannot fully prove this to be true, so the spouse making the accusation must present evidence to prove that the affair took place.
Terminating parental rights. Asking a judge to terminate the rights of one parent over another is a big ask, but sometimes, it is necessary for the safety and well-being of the child involved. However, presenting evidence is more than just speaking about what the other spouse did. Presenting clear and convincing evidence must be done in order to support a serious allegation such as this.
These examples help to show why an attorney is necessary in a family law case, and they represent just a small portion of the types of situations that could arise and require evidentiary hearings.
How Much Is a Family Lawyer in Texas?

The circumstances of each case and each attorney are different and will impact the costs associated with legal help. Generally, an attorney who charges more will have more experience and a proven track record on which to rely. However, that does not mean that the more an attorney charges, the more likely you are to win.
Factors that determine the overall costs associated with family law cases include not only their experience but also how much time they will need to invest in your case. For more complicated cases that require more research, litigation, mediation, or arbitration, the costs may be significantly higher than helping to settle a divorce in which both parties have already reached an agreement.
On average, a family law attorney in Texas will cost between $150 and $450 per hour. This is just for the attorney services themselves, and your overall costs could also include filing fees, court costs, expert witnesses, and more. When interviewing potential attorneys, discuss the types of costs you can expect. You should also inquire about any fees that may be litigated as part of a settlement.
Some attorneys will begin by charging clients a retainer for their services. This is charged as an upfront fee to reserve the attorney's services. This fee is often between $1,000 and $5,000 dollars. This will often be applied to any applicable fees the attorney will charge in order to offset future costs.
Unlike criminal cases, family law cases do not guarantee the representation of an attorney. This can cause complications in your case that make it difficult for you to work through the legal wording and processes you face. However, finances should not prevent you from hiring the representation that you deserve. When speaking with a potential attorney, provide them with information on your financial situation. They should help guide you through solutions.
Until you speak directly with an attorney, you should understand that these are simply estimates of some of the charges and fees that you could encounter.
Can a Family Member Be Your Lawyer in Texas?

The short answer is that, yes, if a family member qualifies as an attorney, they may represent the family member. However, this representation comes with the potential for significant conflicts of interest. If a family member chooses to represent you, they must ensure your interests are the priority and that there are not any ulterior motives behind their work.
There are several agreements that an attorney and their client make. These include the sharing of information that could potentially be damaging to other relationships within the family; however, there is an aspect of attorney-client privilege under which what a client tells their attorney is safeguarded.
There may be many benefits to hiring a family member to represent you in the legal system, such as saving costs. They may charge you less or not at all, which can be a huge incentive. Additionally, they likely do not want to see you negatively impacted by the legal process and, therefore, want to help you make the right decisions along the way. Communication is also going to be easier because of the level of familiarity and trust.
Weighing the pros and cons of the decision comes down to the dynamics of the case and the people involved. If the relationship can move forward as an attorney and client throughout the case, then the benefits may outweigh the negatives. The attorney needs to ensure they act ethically. It can be a great sign between family members when the person representing you shows you the support they believe you deserve.
Texas Family Law Attorney

No matter what difficulties may be confronting you and your family, you deserve representation that has your interests in mind. With help from The Law Firm of William A. Walsh, you can have an advocate who compassionately articulates your needs throughout the mediation, arbitration, or litigation process. You have rights that deserve to be protected. Contact our offices today and speak with our team to get the support you deserve.